SERVICES
1. Domestic Door to Door Courier and Freight Forwarding 2. International Door to Door Courier and Frieght Forwarding 3. Distribution / Messengerial Services
---
1. Domestic Door to Door Courier and Freight Forwarding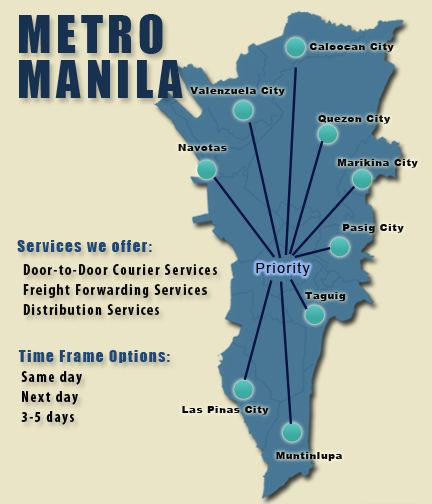 We deliver within Metro Manila &mdash You can avail of our SAME DAY delivery service for your URGENT Document or Parcel. Or, you may opt for our NEXT DAY delivery service with reasonable rates. And, if you are on a tight budget you can choose our 3 to 5 days delivery service at rock bottom prices.
Provinces
For Provincial deliveries &mdash we also deliver NEXT DAY to key cities. We also have the widest area of coverage Nationwide. You may be surprised we can deliver even in remote areas. Just call our Customer Service Representatives for serviceable areas.
---
2. International Door to Door Courier and Freight Forwarding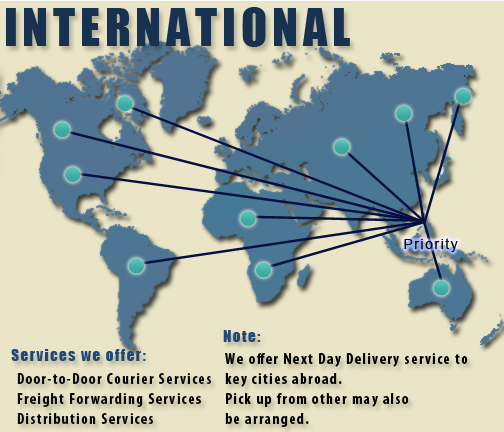 International Courier Service is one of our Core Expertise. Your URGENT documents will be delivered NEXT DAY into Key Cities of Hong Kong, Indonesia, Japan, Malaysia, Singapore, Korea, Taiwan, Thailand, and USA (local time). This is offered at regular rates without any additional cost to you. Sending your parcels abroad is a breeze. Just call our customer service hotline and our agent will assist you every step of the way until your shipment is delivered. Ask for a quotation and you will be surprised at the lowest price you can get.
---
3. Distribution Services
Need someone to do errands for you? Need a masscard to be delivered? Gifts you want to send? Promo items that need to be distributed? Christmas Giveaways that have to be delivered before your client goes on holiday? Just give us a ring we can arrange something for you. No need to waste so much time in traffic. Your PRIORITY messengers will be more than glad to be of service to you.

We Deliver / Distribute the following within Metro Manila:

Billing Statements (Utilities, Credit Cards)
Bank Statements
Online Shopping Items
e-Commerce
Promotional Materials
Marketing Leaflets
Invitations
Proposals
CDs / DVDs / VCDs
T-Shirts
Christmas Gifts (calendars, umbrellas, wines)